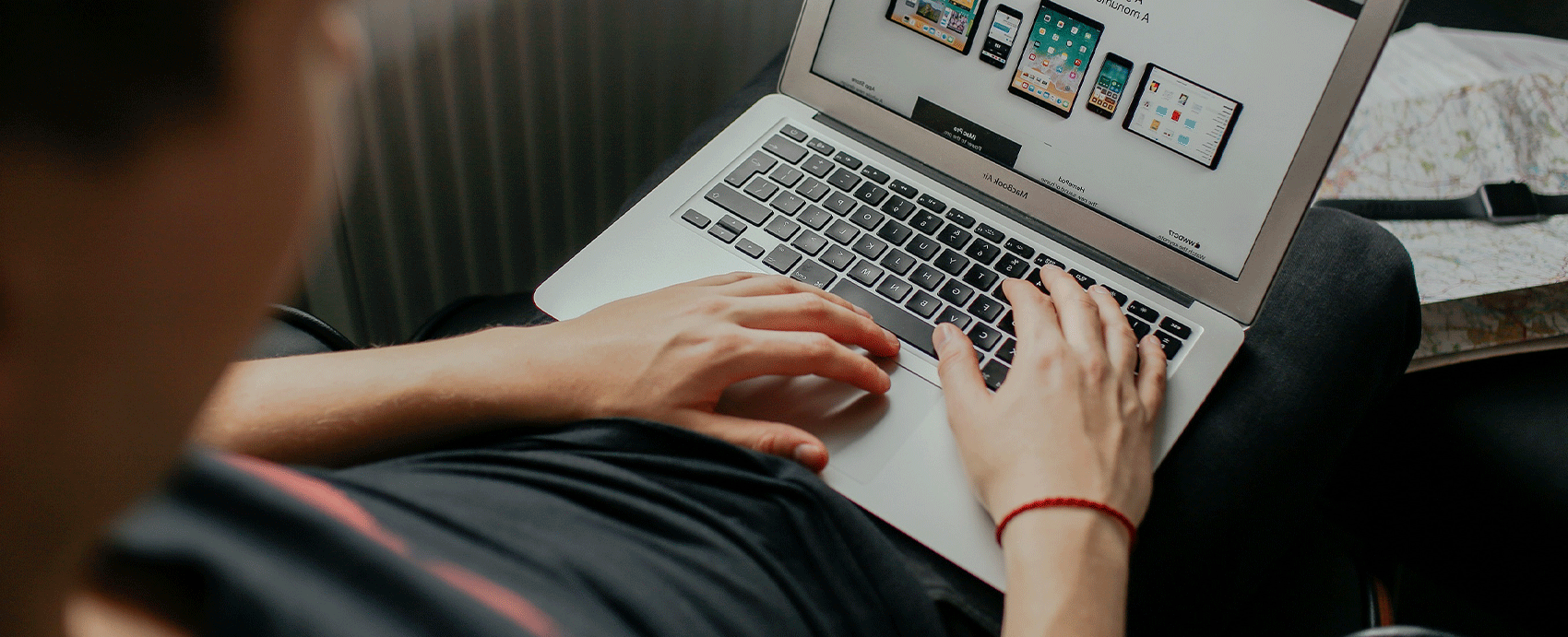 In this blog post, I'll go over the essentials of getting started with your regular content marketing routine and offer some helpful tips about what to consider when it comes to creating content, SEO optimization, and picking your social media channels.
Content marketing is the biggest trend in digital marketing at the moment – and for good reason. Combined with marketing automation systems, it allows for attracting better quality leads, achieving better conversion, and smoother processes that focus around customer satisfaction.
At least, it should.
But how do you get started with content marketing and get your lead-generating machine up and running and fine-tuned?
1.) Valuable content versus "we, our, ours" rhetoric
First off, let's start with a very basic statement: the core of content marketing lies in producing beneficial, customer-oriented content, i.e. content that's useful and brings value to its readers. This cannot be repeated too often. Why? Because even to this day, most of the marketing content starts with "we, our, ours" rhetoric.
Look at your company's marketing communication. How many paragraphs start with your company's name? With the names of your products or services? Or simply with "we do this," "our thing is," "our *enter descriptive word of your choice* is"?
Put yourself into your potential customer's shoes for a moment.
They are looking for information to solve a problem they have. Given customer behavior trends, it's a good bet that they will search for several comparable products or services and evaluate them before they make the purchase decision, and before they ever contact your sales people.
Now, if three out of four companies sing the song "we, our, ours" and one "solves problem X", which one would you choose?
So, before we go any further, make sure to think of these when creating content marketing content:
What benefit does your content give customers?
How easy is it for them to understand those benefits from your content?
Can you make it any easier?
Remember, the average reader takes just three seconds to scan the content before committing to reading – or leaving.
Make sure you give them a reason to stay right away – in your opening sentence, or better yet, in your title.
2.) Create content that people are searching for
The second most important thing for getting started with content marketing is to make sure your customers can find your content. Obviously, this means search engine optimization of your content. However, there is a definite difference between creating content and SEO optimizing it, and creating content that people are searching for.
What does this mean, exactly?
While most marketers routinely SEO-optimize content, e.g. making sure the keywords are in the text body, tittle, meta-text, URL and image alt-text. But what's the point of optimizing content that's written around terms only you or a limited number of specialists are using?
So first, identify your keywords – the words your customers are using to find a solution to their needs. Here is a thorough guide on how to do keyword research.
However, for those short on time, here are three quick and easy tips to help you get an idea of what your customers are searching for:
Step 1: Head over to Google (or the search engine of your choice) and take advantage of the "popular searches" function by typing in different versions of your keywords.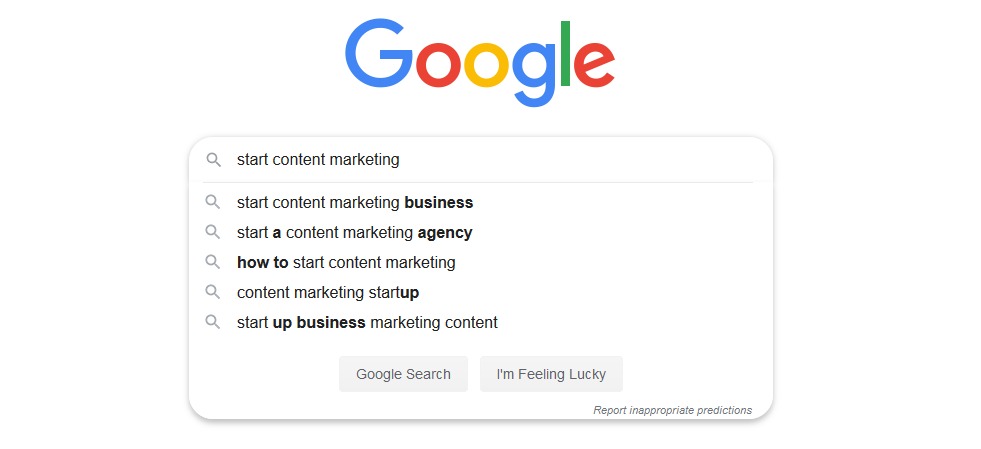 Step 2: Play around with the suggestions. Put yourself into your customer's shoes. Try to find your products/services without using the internal names you use in your company.
If you have trouble, then imagine how difficult it is for your customers! Find out what gaps you have, and plan how to fix them either with search engine marketing or creating content that targets those specific problem areas. Remember, for your content to affect your standing with search engines, you will need up to several weeks, and given that the keywords are constantly evolving based on your customers' interests, the SEO work never ends!
However, even if you managed to find your services easily, don't give up yet! Playing around with Google is also an easy way to identify popular topics you can to use creating successful content for content marketing.
Also, don't forget Google's suggestions at the end of the page:

Step 3: Lastly, if you want to compare the popularity of searches, make a list of all the words and phrases that are interesting to you, and paste that into your Google Ads Keyword Planner.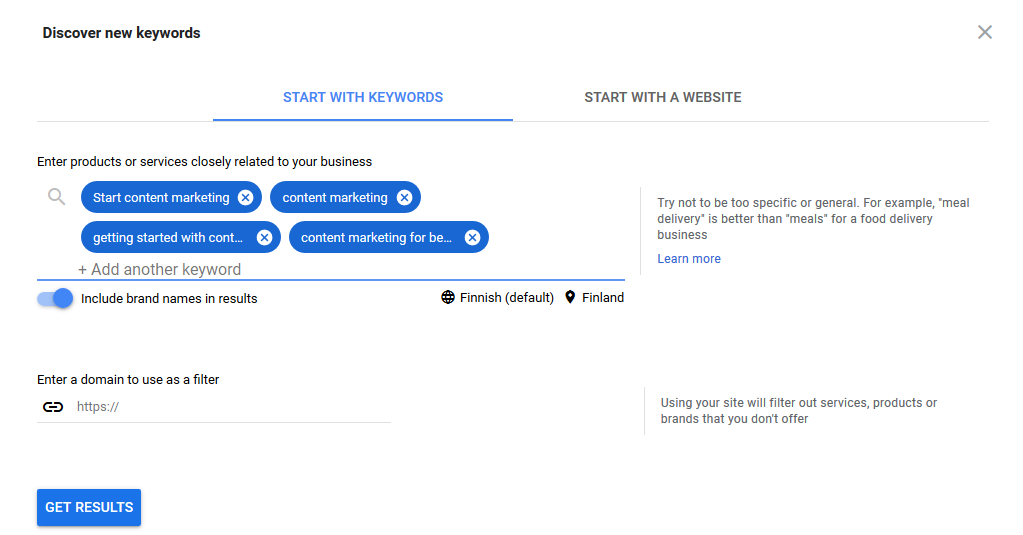 (And don't forget that your list can be compiled from keyword suggestion tools like Übersuggest or Keyword Tool and can contain up to 700 keywords/phrases per search!)
Remember, when you create content around keywords that people are searching for, your content starts to bring in new leads to your website/blog that don't depend on promotions on social media or paid advertising channels – but only when you do it right.
So, take the time to identify the keywords that matter for you!
3.) Promoting content on social media
You are creating valuable content that's helpful for your customers. You have chosen your keywords and topics around searches with enough traffic to reel in results. Now, how do you turn your social media channels from resource sieves into a successful part of your content marketing routine?
First, let me ask a quick question – why you are using the social media channels you are currently using?
Is it because they have the most users? Everyone else is using those channels? While these are valid reasons, it would be better to argue: "our customers are using this channel."
Depending on your target group, whether you are targeting B2C or B2B customers, where they live, how old they are, whether they are likely to be using those social media channels on their cellphone or computer, why they are likely to be using said social media… I'd recommend that you first evaluate the channel choices you are using and tailor your content/promotional messages for those channels' standards.
Remember, people go to LinkedIn for different reason than to Facebook! Identify what sort of content your customers are looking for on each social media channel and address those needs. Are your customers using social media to be entertained? Or are they looking for educational information? Is their interest based on emotion, or rational decision-making? Here is a helpful infographic about the subject: content marketing matrix – educate, convince, inspire or entertain.
If you don't get too attached to the conventional, you might find potential growth from rising social media channels like Instagram, Twitch or Snapchat.
Secondly, remember that social media is for communicating.
Even if you have established a company account on a social media channel and you diligently post company-related content, you may find that your results are lukewarm at best. To change this:
Take part in the conversations. Use #tags, @mention people and build your follower base.
Identify the active sharers for your chosen keywords. Each social media channel has active people with large networks who routinely share beneficial content. Find them and make connections. Create content that they are interested in sharing and broaden your reach!
Follow the trends in your area of expertise. Is there a new development or news worth commenting on? Create content that discusses the popular topics, and build your brand as an expert in your field!
Engage with your followers. When you get comments, don't leave them unanswered. When you engage with your audience, you will develop your brand as an expert in the field, and this will create credibility to your content.
In Summary
Getting started with your regular content marketing routine that keeps bringing in leads for your marketing automation system requires you to create valuable content, optimize it around keywords that people are searching for, and promote it on social media.
When done right, these will create a solid foundation for your content marketing strategy.
However, content marketing is hardly limited to these and, like you may have noticed, these basic steps require time to start reeling in steady results. Because of this, most content marketers find it useful to supplement their regular content marketing routine with converting content campaigns.
As the name "converting content campaign" suggests, their primary purpose is to convert visitors into leads, and they are a content marketer's prime tool in gaining leads more quickly than regular content marketing allows.
Read more about this in our 48-page free guide to creating converting content for marketing automation: