After more than a year of pandemic waves and a compulsory home office for most of us, many countries are slowly going back to "normal". For the time being, however, offices are reopening at reduced capacity with only a portion of the desks being made available due to social distancing measures.
Some organizations have taken a different approach, as they have mandated working from home - whether part-time or permanently - to reduce their office space and save costs. In both cases, it's not always possible for all employees to have a desk while in the office.
At Acolad, we had the same desk booking challenge, which led us to evaluate various SaaS tools to solve our problem. However, during our research we discovered three common drawbacks in these solutions:
They didn't allow us to use our own office map
They had a poor user experience
They were too expensive
This is where Acolad's Power Platform gurus jumped into action. I In a matter of days, they developed a robust desk booking app which fully integrates our office map, allows us to configure maximum capacity, has phenomenal user experience on mobile, desktop and within Microsoft Teams, and – best of all – is free to use with an Office 365 license!
How does Microsoft Power Platform work for desk booking?
Authentication is based on your Active Directory profile and, once authenticated, the Welcome page allows you to either create a new desk booking or manage existing bookings.
The booking process itself is straightforward and simple:
You pick the date you'd like to go to the office from the calendar. In the calendar you can immediately see the dates you booked (in blue) and the dates which are already fully booked (in red).
Once you've picked a date you can confirm your timeslot; either predefined (full day, morning, or afternoon) or based on specific hours.
In the third step you pick your desk on the office map. This map also brings a smart experience: booked desks are in red, free desks in green and your commonly-used desk is preselected in blue. Any of the green spots on the map can be selected as your desk for that day.
And finally, you'll see the overview of your booking and can either confirm or return to one of the previous steps to make changes.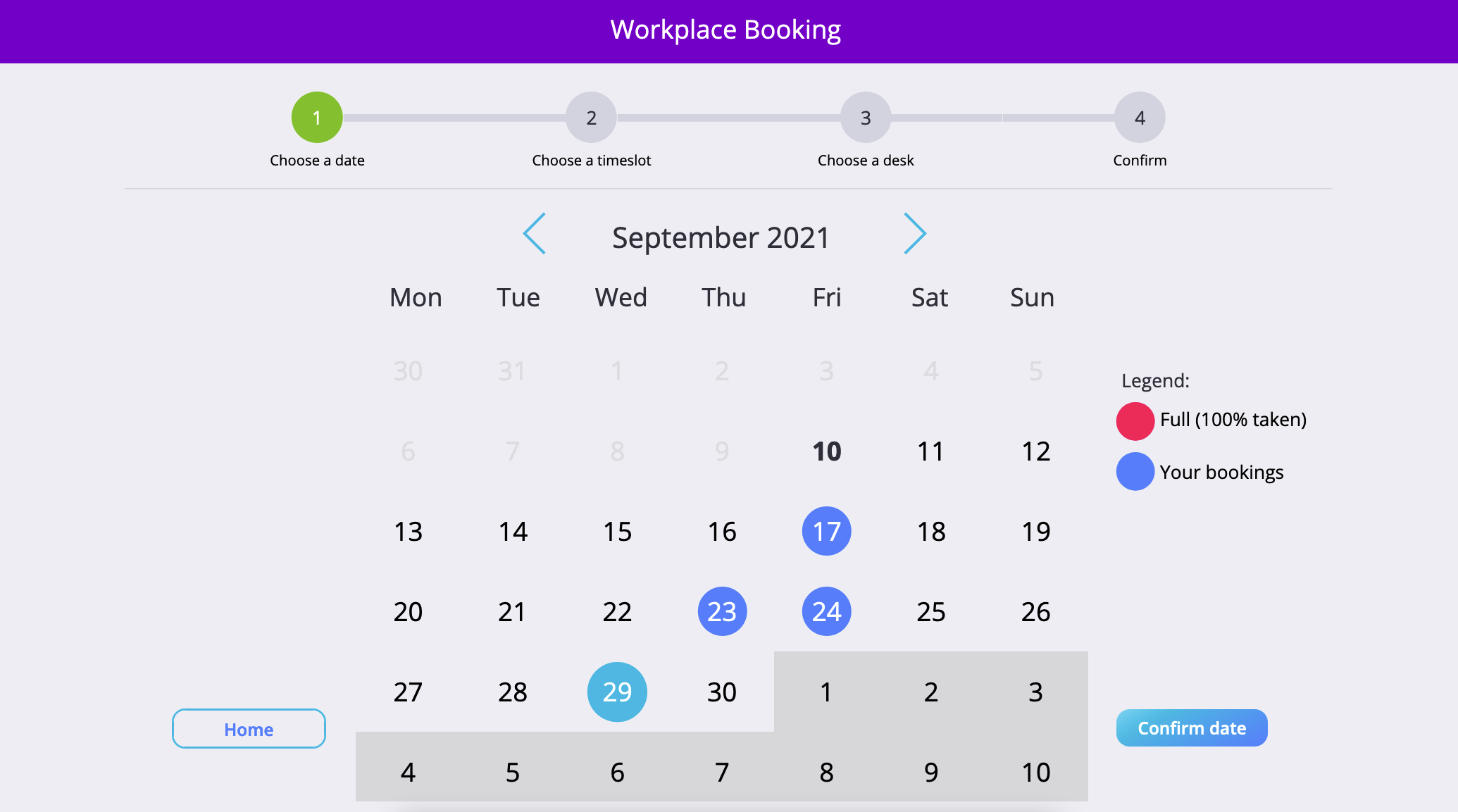 Using the calendar, choose your desired date. Red indicates no vacancies.
Choose your desired timeslot.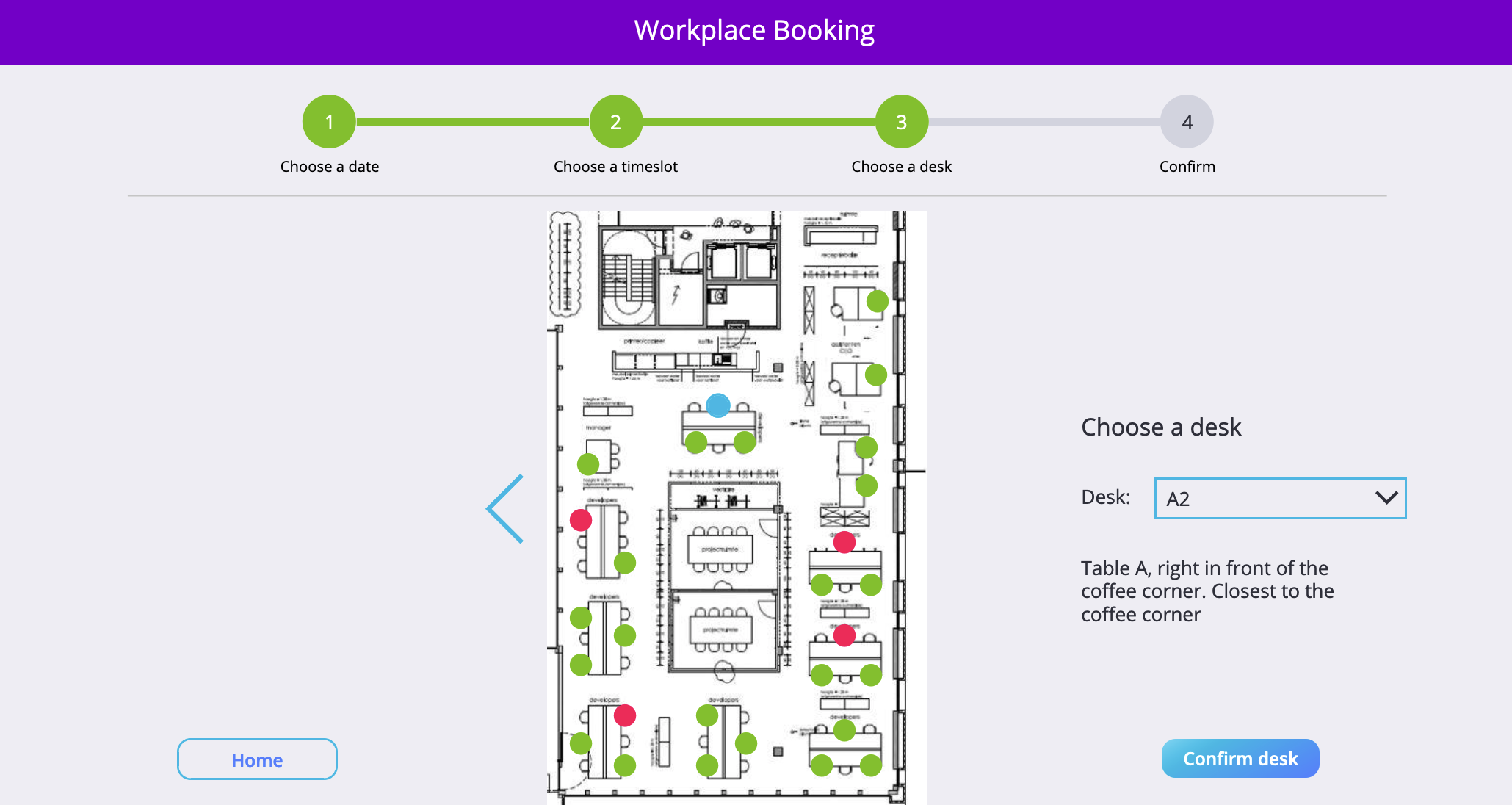 Choose an available desk (indicated in green).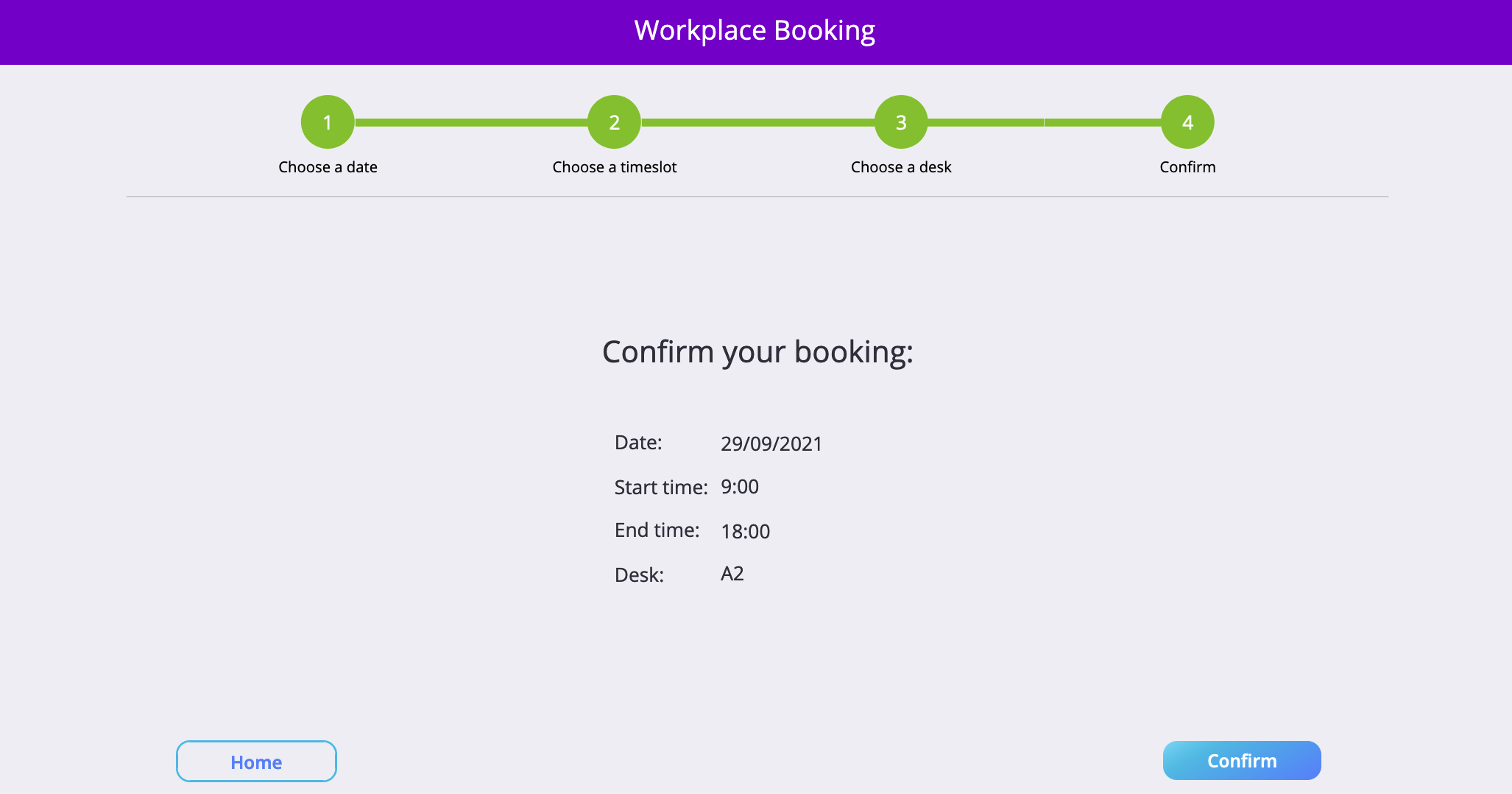 Confirm your booking!
Power Platform then sends an e-mail confirmation to the user, automatically adding it to their Outlook calendar.
Office managers have access to an overview of bookings so that they can take appropriate safety measures in case of health concerns.
The above is just a simple yet clear example of how Power Platform can easily bring value to process digitization. The development of the app and automation, being fully based on low-code, took a matter of days instead of weeks or months.
An additional benefit is that you can use the app from desktop, on mobile and from within Teams. And as we're only using SharePoint in the back-end, the app can be used for free as part of your existing Office 365 license.