A couple of weeks ago Gartner published its annual Content Services Platform report. As an Employee Experience company, we've read the report with interest and special attention to the leaders, Microsoft, OpenText and Hyland, for which we provide consultancy.
Let's look at what Gartner says.
Microsoft
Microsoft, with its M365 platform, remains the indisputable leader. Its main strengths are the tight integration with the rest of the Microsoft ecosystem (MS Office Online, Outlook, …) and the fact that it's a SaaS-product by design. It really unburdens its customers from upgrades, scalability, storage, …
We also see this in the market. More and more customers already have M365 in house, most of the time for the Office online tools and Teams and are increasing the footprint of M365 within their organization with e.g., the Power Platform. Not only existing M365-customers are using more and more features of the product, but customers of competing vendors are considering and implementing a move to M365. The feature set is at par with what "traditional" vendors are bringing and its subscription-based licensing makes it often more affordable, although advanced compliance requirements quickly lead to more expensive E5 licenses.
What we also see in the market is one of the main attention points of M365 and that is, what Gartner calls "content sprawl". When a customer rolls out SharePoint and Teams, they often lack good governance and a set of best practices which causes the number of sites and team-channels to grow like mushrooms and end-users being overwhelmed. So that's an area where many third-party vendors position their offering.
There are other domain capabilities where Microsoft has some work to catch up with its competitors like capture (scanning, OCR, classification) and large-scale archiving. While there is tooling for compliance and archiving the historical architecture of SharePoint, which is site-based and thus a more silo-approach, isn't suited for the typical volumes we talk about when implementing an archiving solution. With regards to capture Microsoft is mainly relying on Syntex.... Syntex uses AI and ML to extract information from documents and forms which you can use in custom applications build with the Power Platform. But at this stage it's more appropriate for smaller use-cases and is not yet a match for the bigger enterprise capture solutions such as OpenText Intelligent Capture.
OpenText
The next leader we're partners with is OpenText. OpenText has a strong offering when it comes to integrating with leading business applications such as SAP, SalesForce, MS Teams and MS Dynamics. Users can use their application of choice while content is stored in a secure and compliant repository bringing capabilities such as records management and search to these leading applications. Its primary customers are large enterprises with extensive and complex requirements. Mainly through acquisitions OpenText can provide a wide range of services and solutions, covering the complete content lifecycle from capture to archiving.
While this breadth is a strength it also sometimes causes confusion with customers as the different products and services overlap (e.g., Documentum vs Content Server for document management). This also makes customers wonder if their product of choice is part of the strategic investments of OpenText.
OpenText is investing heavily in their Cloud offerings. At this moment they are lagging behind certainly compared to Microsoft when it comes to SaaS-offerings. But we see the first products hitting the market like the Core product line (Core Content, Core Share, Core Signature) and the promise of the OT2 SaaS information platform. But will they be on time to claim their piece of the pie?
Hyland
The last leader we would like to discuss is Hyland. Last year Hyland purchased Alfresco and Nuxeo, which were still mentioned separately in the magic quadrant of 2020. This is the first year the combination is listed as 1 vendor. In contradiction with OpenText Hyland succeeds in defining separate use cases for each of its CSPs. While OnBase offers some vertical solutions, Alfresco is positioned as a horizontal platform which customers can leverage to build multiple solutions on top of. And Nuxeo is very strong in digital asset management.
Of course, there is overlap in the features these 3 CSPs provide. And we wonder if Hyland has the long-term strategy to keep investing in 3 CSPs. Or will we see some cherry-picking of the best features and combine them in a single (new?) product?
One of the reasons why Hyland purchased Alfresco is because Alfresco is cloud-native by design. Hyland's own repository OnBase isn't. We see this very often with CSPs which were designed in the 90s, beginning 21st century the switch to the cloud is a painful transition. The offering Hyland has now with its own OnBase and with Alfresco is a hosted environment and not a SaaS multi-tenancy offering. For every customer a separate instance is provisioned and maintained by Hyland's support team, which of course is more expensive than a multi-tenant solution.
With the help of the cloud-mindset Alfresco brings, Hyland is developing a true SaaS-solution to bring their content services capabilities to the cloud, Hyland Experience Platform. The first application is already available on this platform, Hyland Experience Capture.
Trend
When we put the magic quadrants of the last years next to each other, is there a trend we can determine?
2019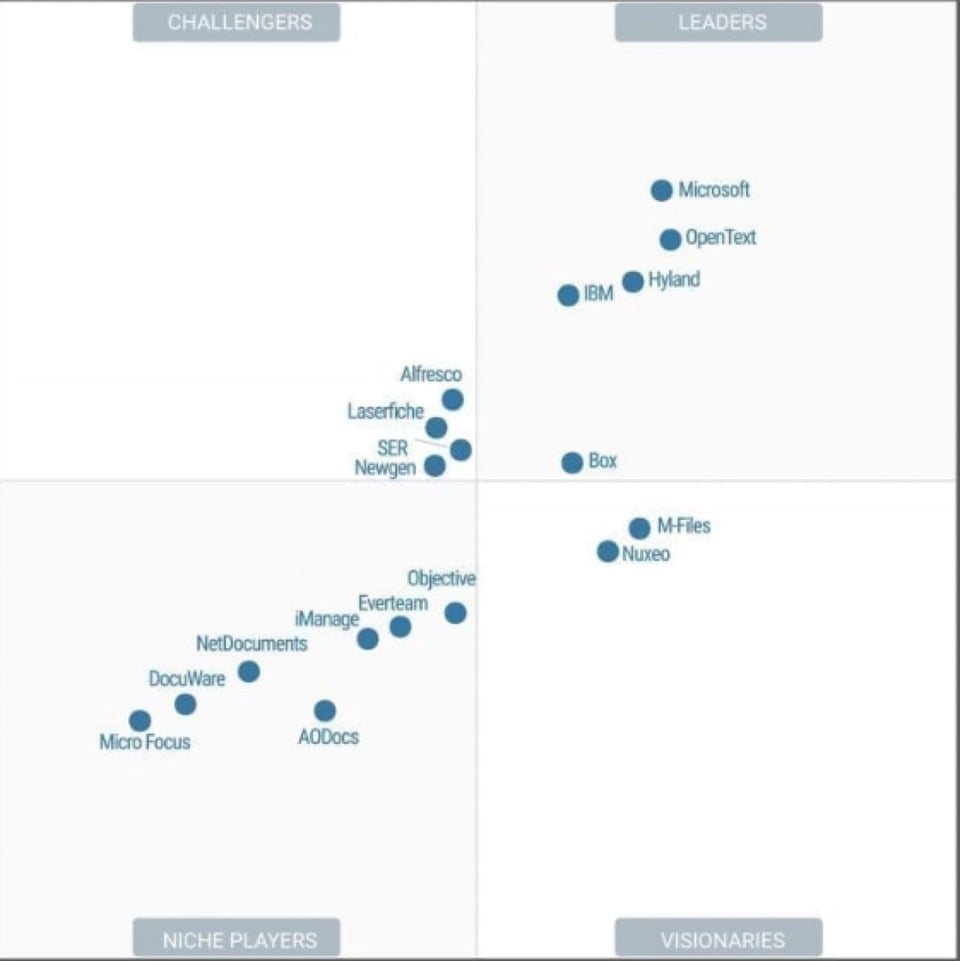 2020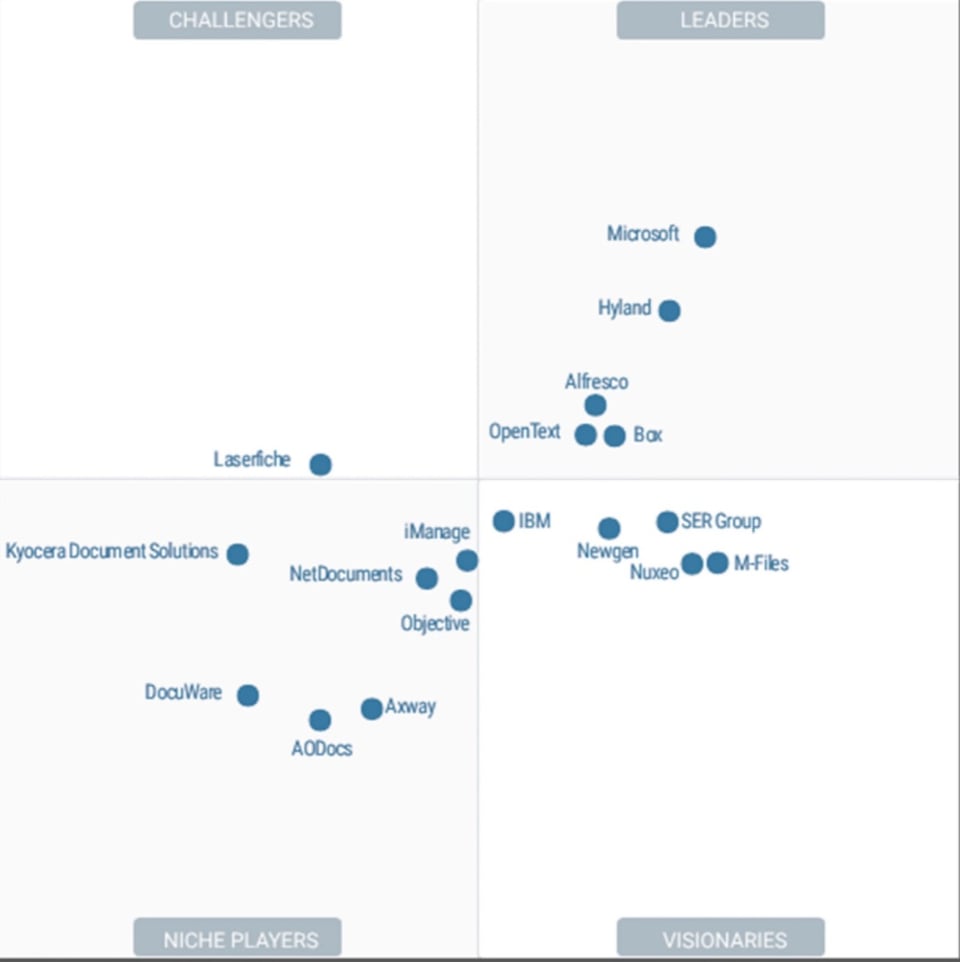 2021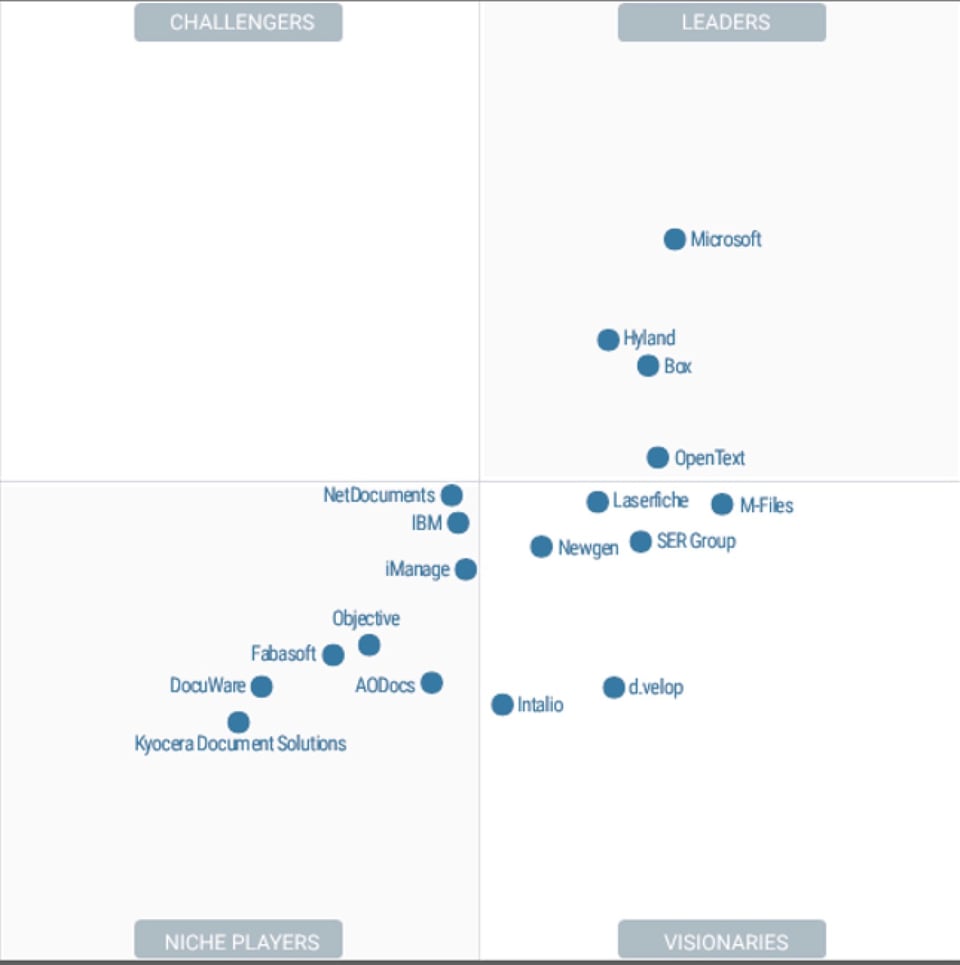 Microsoft already is leading comfortably for more than 3 years and not losing its momentum in any way. As we saw, the market follows this trend. We are confident that also next year Microsoft will be leading the bunch and has added more capabilities to its offering. Together with Box, this is the only true SaaS solution in the leader quadrant. Box however has low traction in Europe.
While in 2019 OpenText was a close contender of Microsoft, they lost traction in 2020 and were not able to recover in 2021. While still being a leader, they seem to struggle a bit. In our opinion this is related to the fact that the transition to the cloud is a difficult exercise for them.
Despite the acquisition of Alfresco and Nuxeo, Hyland has kept the same spot for the last 3 years and even dropping very little the last year. This seems to indicate that there is a lot of overlap in their product offering. For Hyland we are really looking forward to next year when the integration between the different products has evolved (e.g., low-code offerings, RPA…) and when their cloud offering has matured for another year.
Conclusion
The Gartner magic quadrant gives a nice and quite accurate overview of the status on the CSP-market. We do want to stress however that the unique use case of every customer still is the biggest decision-driver to choose a CSP.
If you are working in a strongly regulated environment with high-volume transactions and strict archiving requirements and integrations with existing business applications is important, OpenText is probably the best choice. If enterprise-wide communication and collaboration rank high on your requirements list, then go for M365. And if you desire a cloud platform with a development toolkit to deliver content-rich fit-for-purpose apps fast, Hyland might be worth looking at.
Looking for guidance with these systems? Drop us a line.