In an ever-changing digital world, high volumes of data are created daily, making it difficult to stay on top of it. So how can you ensure that you are making the most of the data you are collecting? Regardless of industry or business size, many data processes are still rudimentary, being done manually, via email or Excel or even paper-based. This not just takes a lot of time from your teams, but makes processes error-prone. And you don't want that error risk to get to your customers, right?
The answer to solve these challenges is to digitize and, if possible, automate these processes. But business process automation usually still falls under IT's responsibility, who get flooded with requests to build custom business apps for different departments like HR, finance or administration. More often than not, IT teams don't have the bandwidth to create apps that solve everyone's needs and as a result only focus on a small set of core processes.
Power Apps to the rescue:

It's time to meet

Microsoft

Power Platform
It's time to break that chain of overburdened teams, error-prone processes and internal inefficiencies. Power Platform is Microsoft's low code/no code platform that can empower non-technical users to build business applications that can help them get their job done.
With all its features and requiring no prior programming background, Power Platform helps you quickly build full-blown applications, using data from multiple sources and adding out-of-the-box intelligence such as image recognition, translation or text recognition (OCR). And I repeat, in a platform that doesn't require any technical knowledge!
On Power Platform you can also analyze data to get insights, take action and find more opportunities for automation.
So how does Power Platform work in practice? Power Platform has 4 core applications or features to cater to your needs: Power BI, Power Apps, Power Automate and Power Virtual Agents.
Power BI
Power BI has been around since 2011 and has become the 'go to' BI platform for many organizations. It has now been fully integrated into the Power Platform. Power BI enables you to analyze raw data from any of your existing data sources, allowing you to collect and create visual reports and dashboards so you have more insight and can take better decisions. Think about visually representing your sales figures or creating a dashboard to get insight into your social media efforts. Power BI offers all the tooling to connect to a broad set of data sources (Dynamics, SAP, Salesforce, …) and to create report views via drag-and-drop.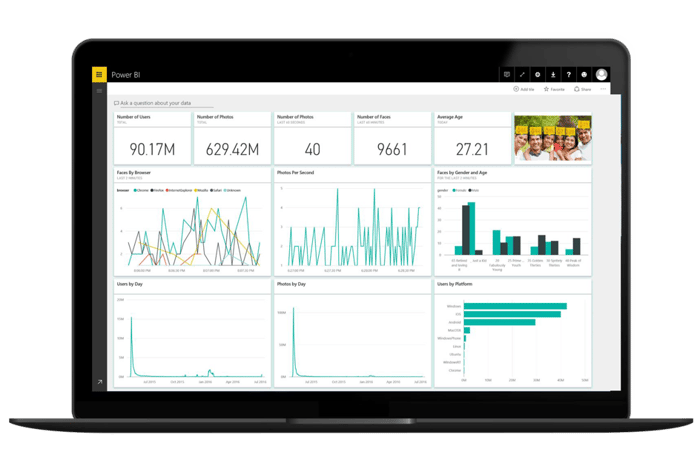 Power BI provides you with a dashboard of different analytics and reports so you can get better insight into your data.
Power Apps
This is the business apps component of Power Platform. It gives you a low code/no code environment to build business application front-ends and solutions to act on data. It gives you three types of applications you can create: Canvas Apps, Model-driven Apps and Portals:
Canvas Apps offer

most flexibility

. They actually start from a blank canvas that you can

populate with all

kind

of

pre-designed

forms,

tables, links and other controls to interact with your data and documents.

So

you build your

application screens from scratch via dragging, dropping and configuring a broad set of available components.

Model-driven Apps start from an existing

data

model

and automatically generate forms and views for you based on those data.

So

this is your quickest option if

you want to generate a form from existing data

withou

t the need to make big changes.

Portals, finally, are

meant to create external-facing websites

for anonymous o

r authenticated users to interact with data. Think

for example

about a

customer portal for submitting support requests.
The good thing is that all these applications are built by dragging, dropping and configuring from an amazingly broad set of base components.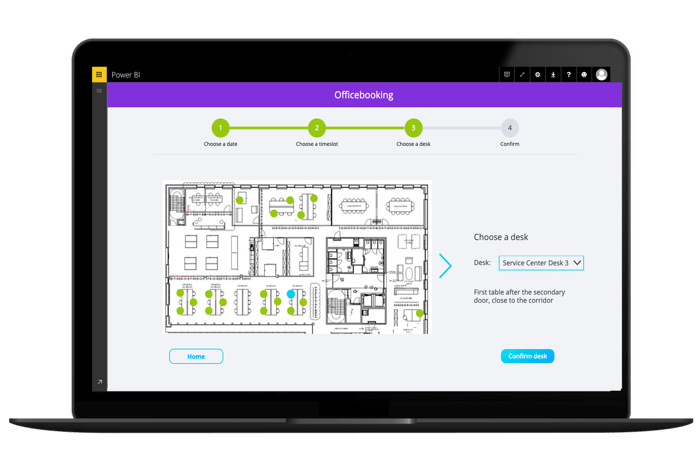 Power Apps can create three different type of applications so you can find one that best fits your needs.
Power Automate
Power Automate is there to help you automate your processes, giving you different types of flows: Microsoft Flows for approvals, Business Process Flows and UI Flows for Robotic Process Automation (RPA).
For example, your colleague John emails you a report every Thursday afternoon that needs to be saved to your team's folder. Power Automate can ensure that every time you get an email from John the attachments are immediately stored into your chosen folder, so you don't have to manually repeat that process every Thursday.
We often compare Power Automate to the enterprise version of IFTTT (If This Then That) on steroids. Based on a very broad set of data connectors and templates you can again build a multi-step automation process by just adding the components in the right order with the desired logic.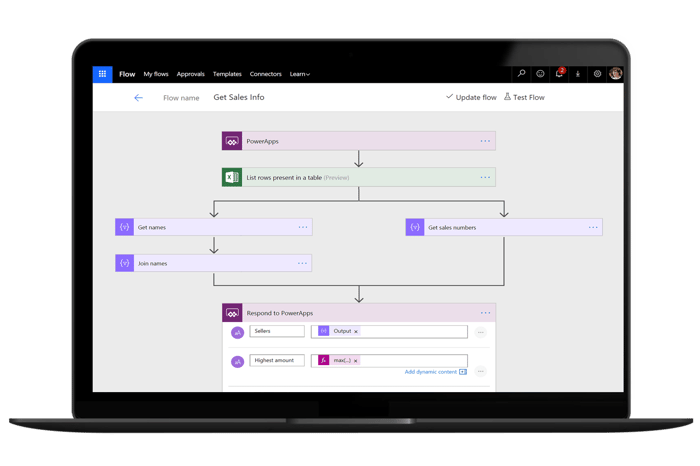 Power Automate allows you to create and edit workflows by simply dragging and dropping.
Virtual Agents
Virtual Agents are the newest addition to the platform and they allow you create chatbots for users, employees and customers, on different platforms and with no code involved. They represent the human interface to your processes. Think, for example, about a bot in Teams which will allow you to book a meeting room via a conversation.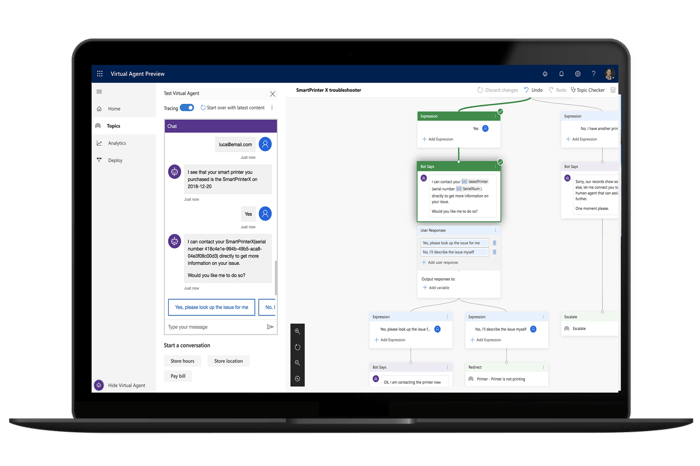 Virtual Bots can be integrated in your existing MS Teams environment to help you be more productive.
Don't forget - Power Platform is an integrated solution which brings together all components in a natural way. And it is made to be used in any different scenarios, giving you independence from your IT Teams in analyzing and automating your data and processes.