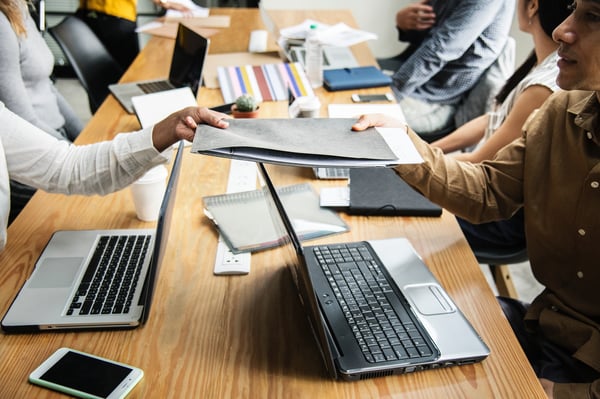 Selecting a translation provider is no easy feat. First of all, you need to decide whether to use freelance translators, in-house translators or external language service providers (or any combination of the three).
Assuming you have decided to opt for professional translation providers, your next challenge is to decide which ones you will work with. There are tens of thousands of language service providers out there, ranging from small 2-person Single Language Vendors (SLVs) that specialize in just one language combination to multinational Multi-Language Vendors (MLVs) with thousands of employees that cover all language combinations and provide a range of added-value services.
A good way to narrow down your options and ensure that you select the best translation providers for your business is to run a Request for Proposal for translation services or Translation RFP.
To help you get started, we have put together a basic Translation RFP template, including a series of questions that you can decide to either include or exclude, depending on your specific situation.
Do you need to run a Translation RFP?
It's not always necessary to run a full-blown RFP for Translation Services. Sometimes a few qualifying questions plus a sample translation may be enough to help you decide on a translation provider.
However, there are several scenarios where a translation RFP may be the right approach:
If you have been translating for several years but have not yet set up a centralized standard process for optimizing translation costs and monitoring translation suppliers.
If you are unhappy with your current translation set-up, usually due to one of the following reasons:

inadequate translation quality
poor service quality (communication and turnaround times)
insufficient translation processes and technology
lack of a complete service offering
spiraling translation costs

If you have a specific large-scale project coming up that requires specific experience and expertise
The Translation RFI (Request for Information)
Depending on your situation, before jumping straight into the translation RFP, it may be worth it to include an RFI Round. The RFI is a preliminary phase that is useful in the following situations:
If you don't already have a shortlist of translation vendors
If you don't have a clear idea of what you are looking for
The RFI should include a few generic open-ended questions, but don't go over the top. The aim of an RFI is to gather information and pre-qualify potential suppliers for the next round. If you ask too many questions, not only will translation suppliers be reluctant to reply, but you will also need to spend a lot of time sifting through hundreds of answers. Also remember to include background information about your situation and your needs. This way, you're more likely to receive useful input.
The Translation RFP - Planning and Set-up
Whatever your reason for running a translation services RFP, investing a little extra time into the planning and set-up phases of your RFP will increase your chances of a successful outcome.
Translation RFP Format and Distribution
First, you need to decide how you will publish the RFP and gather the responses. There are several options available, each with different pros and cons:
RFP Automation Software: Larger companies will probably already have some sort of e-procurement software available for managing RFPs. The advantage here is that the process will be easier to set-up. However, be aware that reverse auctioning systems can be counter-productive when it comes to evaluating translation services as they don't take into consideration the variables detailed in the "pricing" section below.
Cloud-based survey tools: Alternatively, you could set-up an RFP within a cloud-based survey tool such as SurveyMonkey. The advantage here is that you can maintain control over how the questions are answered (by defining fields and indicating compulsory questions) and you will also be able to benefit from reporting functionalities that allow you to easily filter and analyze responses. However, if you do choose this solution, it is a good idea to also provide a downloadable copy of the RFP questions so that translation suppliers can prepare their responses offline.
Excel: Thanks to their accessibility, spreadsheets are often used to gather responses that can easily be filtered and compared. Their disadvantage, however, is that they are not very user-friendly for the companies who must fill them out and it is easy for cells to become corrupt, worksheets to be missed, etc.
Word: Many companies opt to provide the RFP in PDF format, asking translation suppliers to provide their responses in Word. This approach is recommended if you are looking for open and inventive responses, but keep in mind that this method is only suitable if you are sending your RFP to a handful of suppliers, as the time needed to read through all the answers and analyze the results will be much higher.
Likewise, you also need to decide how you will manage any questions. Do you have a query management system in place that you could use? Will you manage questions by e-mail? If so, perhaps it is worth setting up a specific e-mail address or folder just for the RFP. Finally, you should decide whether your RFP will be invite-only or whether you prefer to open the RFP to any qualified vendors. If so, you should also think about confirming a deadline for gathering expressions of interest.
Translation RFP Timeline
An RFP process is not the right time to put your potential translation agencies under pressure. Bear in mind that a well-planned RFP process will take approximately 6 to 10 weeks in total (depending on whether you include an RFI phase or not).
Week 1 - Publication of RFI
Week 2 - Deadline for responses
Week 3 - Analysis of RFI responses
Week 4 - Publication of RFP
Week 5 - Deadline for potential translation suppliers to submit questions
Week 6 - Answers provided to all participating translation vendors
Week 7 - Deadline for submitting proposals
Week 8 - Analysis of proposals
Week 9 - Invitation to final presentation
Week 10 - Final decision
Translation RFP Selection Criteria
Before running your Translation RFP, it is a good idea to draft your priorities and preferences in advance so you can "keep your eyes on the prize". It is also a good idea to draft a Translation Supplier Scorecard, so you can analyze the responses easily and objectively.
What to include in your Translation RFP
Be generous with the information you provide about your company and your requirements. And remember to include detailed information on your reasons for running the RFP for translation services and your translation needs, including:
What is lacking in your existing translation services setup?
What are the key issues and challenges you are facing?
What are your internal processes and requirements?
What is your technology setup?
What is the volume and frequency of your translation requests?
What is the subject matter specialization, format and type of your content?
What language combinations do you need (including any local language variants)?
Remember, the more information you share about your needs and requirements, the more chance you have of receiving proposals that are tailored to your specific situation.
What to ask
General Information
In addition to general contact information, include questions on the following topics:
Company Size - Both in terms of turnover and number of full-time employees divided by role.

Include questions about the translation supplier's top customers, this will give you insight into the way you will be treated (VIP customer as opposed to a smaller customer).
Ask about the turnover rate of key employees: successful relationships with translation providers are often dependent on the personal relationships that build up over time with key contacts, so it is useful to know whether you can expect them to remain the same or change frequently.

Company Location(s) - This will help you understand whether there is a good match for your company in terms of local presence. In addition, knowing that a translation supplier has local offices in key locations can help you understand their strengths and weaknesses in terms of language combinations and capabilities
Company Organization and Management - Understanding how the company is organized and run will help you get a feel for the corporate culture.
Customer references and case studies
One of the best ways to understand whether a translation provider already has experience in your specific area of expertise is to request customer references.
Ask for specific details regarding volumes translated, language combinations and content type.
Case studies can show you how translation suppliers have been proactive in implementing innovative solutions to solve customer problems.
Technology
You need to be sure that your translation supplier has the technological capabilities to handle your files and create streamlined workflows that are compatible with your technological setup.
Ask for information about specific language technology tools used and try to find out whether your translation supplier prefers to use proprietary solutions (that may make it more difficult to change down the line) or is happy to adapt to any solution available on the market.
Ask about translation memory ownership and maintenance. Remember your multilingual content is an important asset that needs to be protected.
Find out what workflow management tools are used and what data is traced.
If you don't already have a translation management system in place, ask whether translation suppliers provide a customer portal and what features are included.
Quality
All translation providers will say that they provide high quality translations, so you need to make sure you ask the right questions during your RFP to really understand if they are the right fit for your needs. In most cases, providing high quality translations is dependent on having sound translation processes that combine manual and automatic quality assurance checks with excellent Vendor Management. Here are some tips:
Ask specific questions about recognized quality certifications such as ISO 17100 and ISO 9001.
Ask for the results of any customer satisfaction surveys.
Ask how non-conformities are tracked and managed.
Project Management and Vendor Management
Project Management and Vendor Management are two key departments within any translation provider, so you need to be sure that the people taking care of your translations are up to the job. Ask for the profiles and/or CVs of the Project Managers and Translators who will be assigned to your projects, and for information on Vendor Management processes. For example, how does the translation supplier recruit, test and monitor freelance translators?
IT infrastructure, security and data protection
Typically, translation providers encounter high volumes of confidential content, so you need to be sure that your translation supplier has the necessary technology and security precautions in place to ensure that your data does not fall into the wrong hands. You should ask your translation provider about security precautions and access privileges, and about precautions that they take to ensure business continuity.
Pricing
Translation pricing is always one of the trickiest sections of an RFP to get right. Of course, you want to be sure that you are getting the best value for money, but typically translation costs are full of savings and additional costs that are not immediately apparent. For this reason, simply asking for a rate per word is generally not sufficient to gauge the overall cost of a translation supplier. At the very least, you will need to be more specific, asking about discounts for Translation Memory usage, DTP costs, Project Management costs and any costs for technical support and related technologies such as online local validation or terminology databases etc. A good way to get a good feel of the overall pricing is to ask for a sample quotation based on a typical project.
Capacity and availability
Finally, you may have specific needs regarding turnaround times and availability and need to be sure that your translation supplier will be able to handle your translation volumes. Here are some tips to help you determine if your translation provider can meet your needs:
Ask about the average turnaround times for typical projects
Find out how many translators with knowledge of your specific area of expertise are available for each language combination
Ask about working hours and office closures
Take a look at our free RFP template to ensure that your RFP is a success!