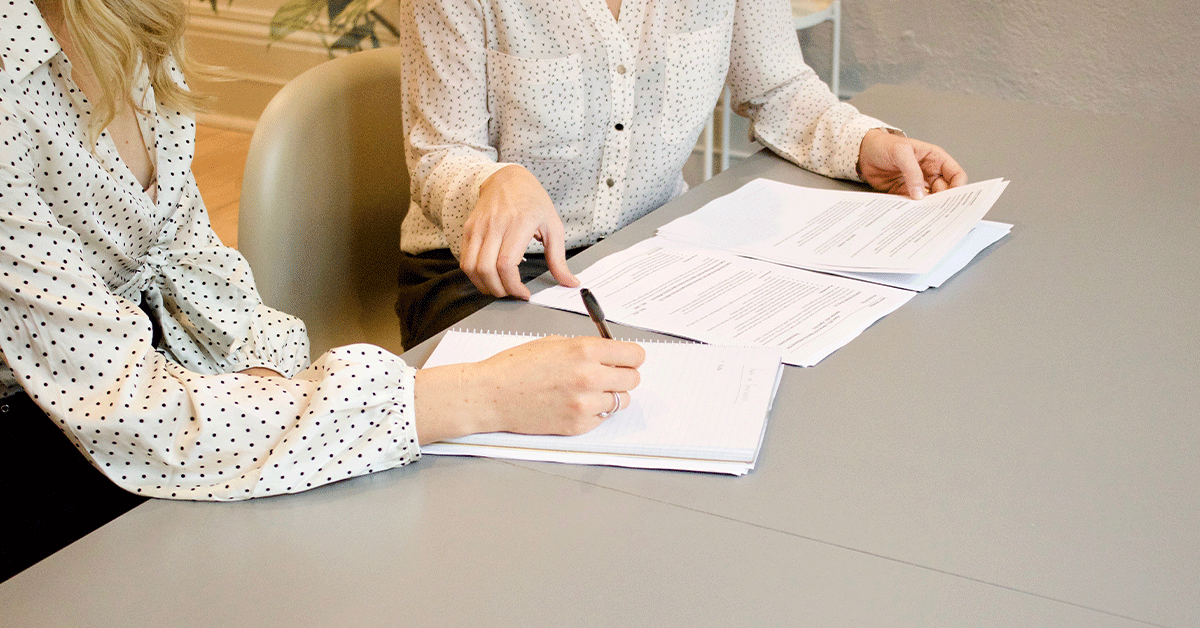 This article discusses the benefits of outsourcing translations to a professional language service partner, in addition to offering tips on ordering translations.
A corporate website needs to be translated into Swedish, as the company will soon be opening an office in Stockholm. An annual report needs to be made available in English for new investors. Brand-new software must be made available in German, so the company can enter new markets. Do these sound familiar?
The translation needs of companies and other organizations vary widely according to the sector and the target market. The above are just a few examples of general translation needs.
1. Saving time
Flexibility, ease and saving time are the most obvious benefits of outsourcing translation and localization projects to a professional provider of language services.
Translating in-house is typical of small and medium-sized organizations with broad roles. However, translating documents, even short pieces of text, often takes a considerable amount of time, which could be devoted to other duties. In addition, the unofficial in-house translator may have more urgent projects or may be on vacation.
Ordering translations from a freelancer is an option if in-house employees are not up to the task. The challenge here is that good translators are often fully booked, and it may take a great deal of time and effort to find a suitable translator.
Professional language service providers have extensive networks of translators, meaning that tight schedules are not usually a problem. In addition, translations ordered through a translation agency are always done by qualified translators. Typically, the translator chosen for a project is a native speaker of the target language, or a native-level language professional with strong expertise in the field in question. They use translation memories, termbases and other technologies that support and streamline the work.
The customer submits the translatable material, as well as providing any necessary additional information in order to ensure a high-quality result. With the translation agency taking care of the translation and localization work, the customer can focus on projects requiring their special expertise. In marketing, for example, the customer can focus on preparing the campaign while the marketing materials are being translated and localized.
With an experienced translation partner, even urgent projects have flexibility and the response times are short. In addition, large and urgent projects can be divided between several translators in a coordinated manner. This makes it possible to complete major translation projects on a tight schedule – while also ensuring consistency and high quality. Comprehensive manuals, large websites and software translations are examples of such major projects.
Tips on accelerating the translation process:
Texts submitted in editable format are quicker to translate. If the material is in PDF format, for example, it needs to be processed before translation, which slows the process and may result in additional costs.
When ordering a translation, you should inform your provider of your wishes and any further specifications when confirming your order, if not before. This enables the translator to follow your instructions from the very beginning.
The more time is allowed for the translation process, the easier it will be to find a suitable professional. It may not be possible to book a specialist translator if the translation needs to be completed in only one or two days.
2. Ensuring high quality
Many people feel that they have a good or even excellent command of English, for example. However, producing error-free English in writing is a completely different story. This also applies to other foreign languages learned at school, such as Swedish, German or French. In everyday communication, little grammatical errors are not that serious. However, a company's credibility takes a hit if their localized website is full of mistakes. Offers and agreements must also be free from grammatical errors. In the worst case, errors and clumsy language may cause a company to lose sales.
Compared with freelancers, a translation agency has better resources to help if a company's translation needs increase, translations are needed in more languages than before, or more complex file formats are required. Through its networks, a translation agency can find an expert in any field, from technical manuals to marketing materials optimized for search engines, whereas freelancers usually specialize in a few fields.
Ensuring quality may be challenging when working with several individual freelancers and managing multiple projects. When using a translator for the first time, ensuring that they have the necessary expertise may require test translations or other ways to measure their skills. Translation agencies have centralized quality assurance, and they provide clear references to give an idea of their fields of expertise.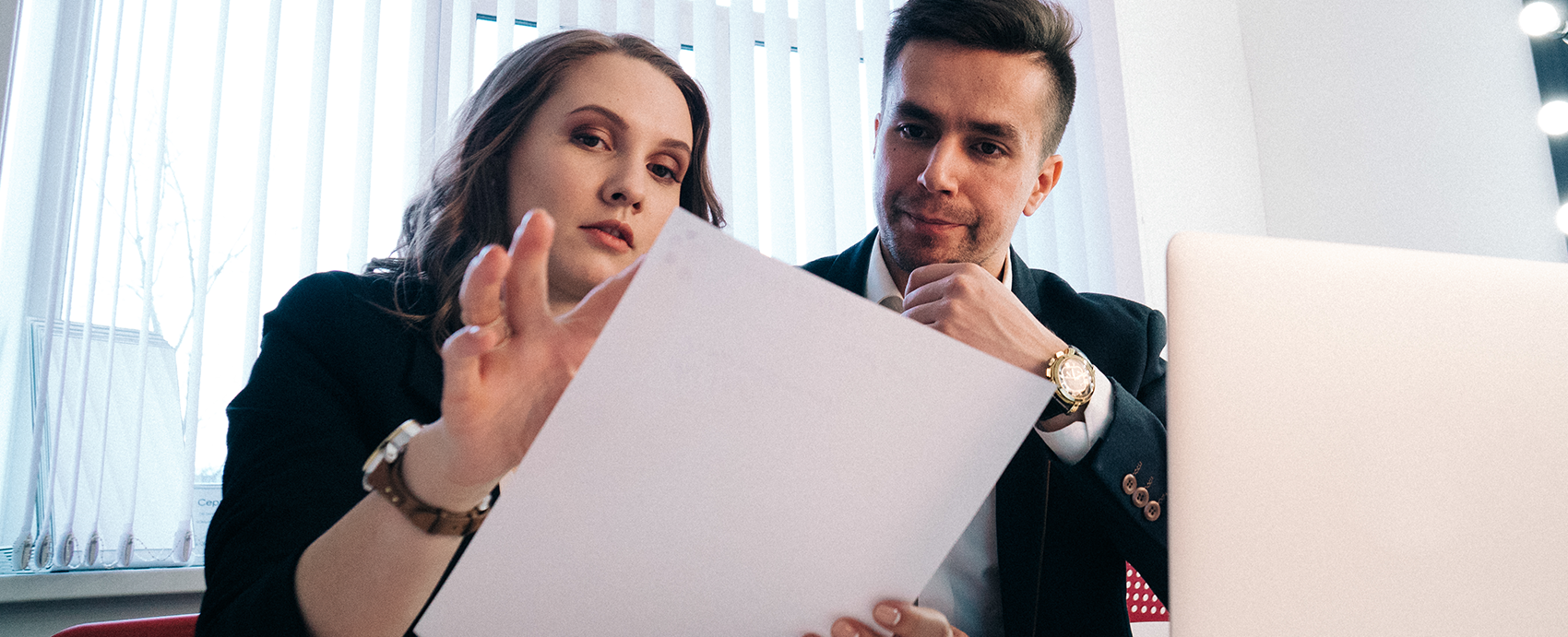 To ensure high quality, the translator needs to be given clear instructions. These may include preferred translations of specific terms, for example, if the company uses established terminology of its own. Such instructions may also concern the tone or style of the text. This is particularly important for marketing materials.
Another good way to ensure high quality is to have a professional native proofreader check the text, or to copy-edit the text in advance to make it run more smoothly in line with the desired style or the corporate image. This is particularly important for texts that will be published. The higher the quality of the source material, the better the translation.
3. Benefits of centralization
If your company needs translations weekly, you should centralize your orders with one translation partner. The most obvious benefit is that it makes taking care of business easy: the partner knows your company's needs and wishes, which makes it easier to communicate them to the translator.
In addition, a translation memory can be created and built for your company. A translation memory is a database of completed translations, which can be used for future translations with similar content. Manuals are a good use case for translation memories, as they often have similar content. When the translator is using a translation memory, they do not need to translate every sentence, as the database contains completed translations. The translator only needs to confirm the accuracy of the repeated translation and make sure that the context is relevant. Using a translation memory saves time and reduces the price because the same sentences do not need to be translated again.
Another considerable benefit of using a translation agency is that they also provide services other than translations. These include multilingual search engine optimization, creative translation (transcreation), copywriting, and language training services, for example. Providing these is also much easier when the provider knows the special requirements of each field.
The savings shown in the chart below are based on a statistical analysis of historical gains provided by Acolad's translation memories, showing the best possible scenario for the selected projects.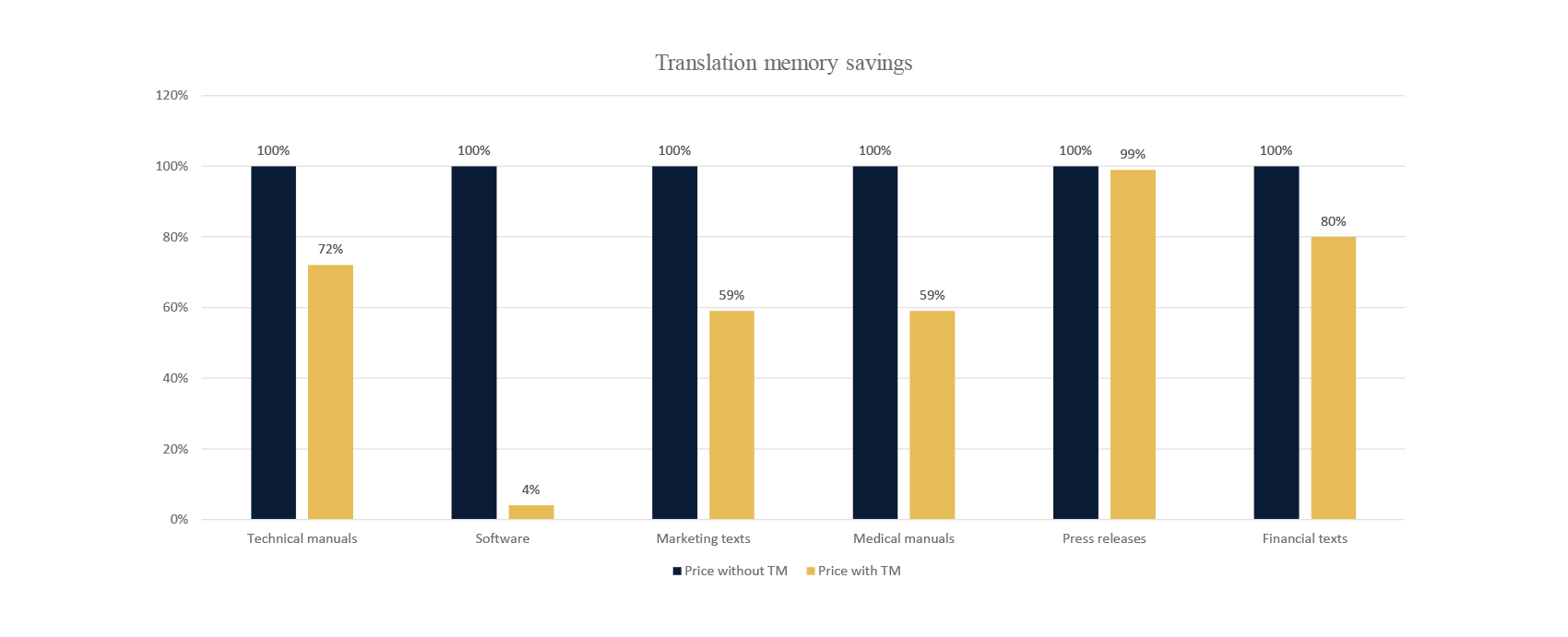 How you benefit from Acolad's services
By choosing Acolad, you choose to save time. Our designated project manager will coordinate and take care of your project, no matter how small or large, from beginning to end. They will find the best translator for the job, and will also make sure that the project is completed on schedule. They will listen carefully to your feedback and suggestions for development to make the process run as smoothly as possible.
Acolad continuously monitors the quality of translations. Our translators go through a selection process that includes a test translation. In addition, Acolad has a separate quality assurance team. In recognition of our dedication to quality and operational development, we have been granted ISO 9001 certification. Read more about our success stories here.
Centralizing translations with one provider brings undeniable benefits. In addition to translations, we are happy to help with language training, proofreading and copy editing, as well as multilingual content marketing. Our translation services make it easier for you to enter new markets home or abroad.
Do you need help with translations? Do you need expert advice on how your company can benefit from localization and translation services? Read more about how to reduce translation costs.