At Acolad Digital we are proud to say: We love Documentum. For most of our customers who use Documentum, it's the central component of their application infrastructure. It's really positioned as the "data heart" of their organization. And it's not uncommon that the Documentum environment has been fulfilling this core role already for many years, and core business processes daily rely on its availability.
The heart of the organization requires applicable attention and love to assure it keeps beating efficiently. And this is the type of love that we as the OpenText Acolad Digital team bring to the Documentum community.
Many of our colleagues invest 40 hours per week consistently on Documentum, some have for over 15 or 20 years (myself included!). It's gratifying to know we're engaged in work we genuinely enjoy.
In this post, we highlight five of the reasons why our affection for Documentum persists and the document management world, after all those years, still gets us excited.
1. High scalability
Documentum is a highly scalable platform that can handle large volumes of documents and users. This makes it a great tool for businesses that need to manage a large content volume, particularly those that operate in highly regulated industries or handle sensitive information, such as life sciences and public services.
Documentum's scalability also ensures that the system can grow and adapt to your changing business needs, without compromising performance or security. The true extent of the scalability of Documentum sometimes takes our breath away.
The special OpenText Billion Object Club gathers all companies that store a billion+ documents or images in a repository, and a large majority of them use Documentum.
This sounds impressive, but it's often even more impressive when you realize that this volume was created in only a few years. With a small calculation, we can see that you only need to ingest 550.000 new documents a day to reach a billion objects in 5 years. When you realize that, the required throughput capacity becomes extremely impressive.
Another scalability feature we love is the Documentum Branch Office Caching Services (BOCS). This enables remote offices to access and collaborate on large documents with minimal network traffic.
BOCS also allows users to download documents from a central repository to a local cache, easily accessible without an active network connection. Changes made to the documents are stored in the cache and later synchronized with the central repository when the network is back available.
Having offline access to documents and data can be particularly relevant when there is too much network latency in some locations of your organization, or when connectivity to the network is not always there. This is sometimes the case with companies in the off-shore or shipping industry, as network connections to a ship aren't guaranteed.
2. Multilevel security
Documentum is a document management system that includes multiple levels of security to protect sensitive information. This includes authentication and authorization mechanisms, encryption and other security features. These features ensure:
only authorized users can access the system
the integrity and confidentiality of the documents and metadata are protected.
Accessing information in the object-oriented repository is standardly dependent on the authorization of the user, ensuring that security restrictions are always followed.
Documentum also allows for the creation of complex organizational structures, typical for large enterprises. On a technical level, it supports all applicable security protocol standards, giving businesses of all industries the flexibility to tailor the system to their specific needs.
In contrast with many other enterprise content management (ECM) solutions, security by design/default is a core feature of the Documentum platform. On a technical level, the role and related authorization of the user is always considered. Queries to the repository will return differently depending on the authorization of the account.
The document query language (DQL) ) resembles normal SQL, but always considers authorization. Even when you bypass the application and directly query the repository.
3. Easy to integrate
Documentum integrates well with other enterprise systems, such as ERP and CRM, which allows your business to easily access and share information across different departments and systems. You can also create robust integration with other systems via industry-standard protocols and APIs, providing a streamlined and efficient solution for managing content.
We see that a lot of customers use these integration capabilities of Documentum to create a central ECM archive solution in their application landscape.
Another integration possibility is building an integration API framework around your Documentum solution, standardizing how other applications can communicate with the content in the Documentum repository.
OpenText also provides the xECM framework that offers standard integration templates to integrate many business applications with the Documentum repository, enriching them with compliant DMS functionality.
4. Built-in compliance
Documentum has built-in compliance features that help you meet industry regulations and standards, such as GDPR, ISO27001, Public Sector Archive Laws, HIPAA, SOX, and others.
The Documentum platform provides traceability and auditability as core functionality, ensuring all proof is available to show compliance and minimize the risk of legal action.
These compliance features are especially important for businesses that operate in highly regulated industries or handle sensitive information, like life sciences, healthcare and other public services.
Another value-added feature is that Documentum recognizes that compliance requirements differ largely per situation, and provides different solutions for them. A common conversation we have with customers is how Documentum can interpret their records management needs.
Records management can mean different things to different customers. Some may require only the assurance that content is retained for a specific period, while others may require the use of formal records that cannot be modified.
Depending on your individual business case, you can also take advantage of file plans to store content in a structured manner, and use selection lists and retention schedules to ensure content is managed in compliance with legal requirements.
Documentum's ability to offer different solutions to different compliancy needs enables your organization to align the application's functionality with your specific requirements.
5. Leader in document management
Documentum has been a leader in the content services and document management system (DMS) area already for multiple decades, due to its robust set of features, scalability and versatility:
It ensures information is organized, preserved and easily accessible.
It offers advanced document management, collaboration, and content lifecycle management capabilities.
Documentum also has a long history of serving large enterprises and government agencies, with a strong track record of successful deployments both in the public and private sectors.
The new developments of Documentum are mainly focused on D2 SmartView, the standard interface of all OpenText solutions, laying the basis for xECM integration with other applications. This way, Documentum becomes the compliant backbone for your lead applications and thus maintains its position as the compliant document management leader.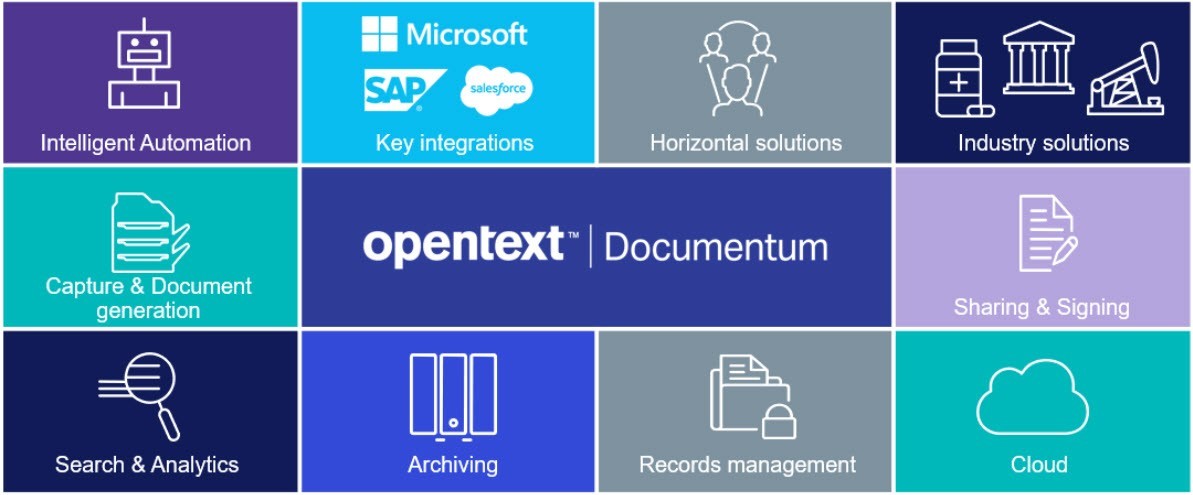 Final thoughts
At the heart of many organizations' application infrastructure, Documentum serves as the lifeblood of their core business processes.
At Acolad Digital, we take pride in giving Documentum the attention and care it deserves, ensuring it functions at peak efficiency. Our team's unwavering passion for Documentum has stood the test of time, and we remain committed to sharing our expertise with customers and the wider document management community.