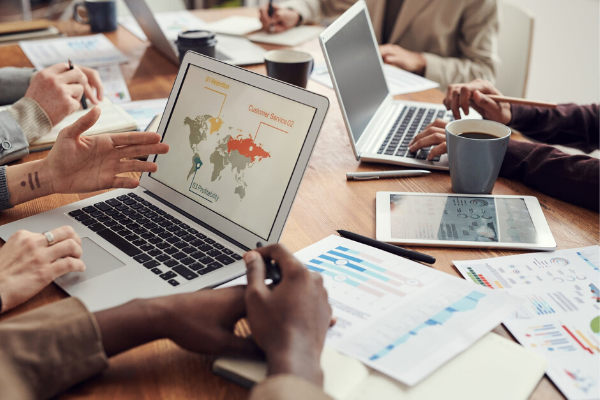 On Friday, January 24th, Victoria Weidemann, CMO of the Acolad Group, hosted the first edition of "Destination: International", our international breakfast event.
This roundtable convened three other marketing and communication experts to talk about international brand image management and risk prevention:
Joël Gaudeul, CMO of Mention, a leading SaaS provider of social media monitoring
Sophiane Laby, Social Media Strategist at Fcinq, a content creation agency
Timothée Gaget, director of Artcher, a firm specializing in social issues, sensitive communication and regional challenges
_________________________________________________________________________________
Listen to our experts' roundtable discussion ________________________________________________________________________________
Planning for and managing a crisis
Optimal management of a crisis often hinges on just one thing: planning ahead. There are different ways to mitigate the impact before a crisis turns into a larger-scale issue.
One of the keys to effective crisis management is defining an internal communication strategy. This will enable you to regularly inform all your employees about company affairs while conveying your values. A crisis can be quickly influenced by the dissemination of contradictory information, which often comes from inside the company. This first tool will significantly limit the risk of poor communication.
Identifying your brand ambassadors is another important aspect of managing your brand's image. Whether these individuals are inside or outside your organization, ambassadors are naturally in a position to defend your brand. Never forget that rallying your employees behind your strategy is an asset to your brand in times of crisis. When they are in your brand, they help to enhance your image among potential external ambassadors.
Your presence on social media also plays an essential role in image management. Through these channels of information, you are building lasting brand awareness while empowering your community to interact and spread your content. First, craft an editorial strategy. This will guide you in creating and curating your content so that you are perceived as an expert in your field and your credibility grows.
To facilitate the activation of their crisis unit, most companies have a crisis handbook. This resource contains all the critical information, such as procedures to follow, important contacts (attorneys, experts, reporters, etc.) and which documents to provide depending on the type of incident. This groundwork will make things run more smoothly and enable the crisis unit to focus on the crisis itself.
Another tip is to use a monitoring resource like Mention, which identifies sensitive topics related to your brand that are being discussed on the internet and social media. This kind of technology meets the need to develop and effectively manage your brand image with media and competitor monitoring, social media management and social listening.
Finally, if your company operates in multiple countries or on different continents different, always pay special attention to your communications and consider the local cultural specificities of your market. "If you do not have a local footprint, you should be worried because you are unable to detect weak signals and local sensitivities," notes Joël Gaudeul, CMO of Mention. Because target audiences do not have the same sensibilities, international companies adapt their marketing content by calling on adaptation, copy-writing or transcreation services.
Save time with an action plan
When a crisis happens, you must know how to manage it effectively. The process is often the same: you learn about the crisis at the same time as ‒ or a few hours before ‒ the general public. In that case, how do you keep the situation under control without letting things get away from you?
Every minute counts and the first hours are decisive. As soon as you receive media inquiries, ask journalists to wait about an hour so that you can take the time to prepare an initial, comprehensive official statement. Your goal is to gain time to obtain as much information as you can. Do not be afraid of an imperfect response; you can refine your message in subsequent communications. The news release will set the tone and will be picked up and relayed by various media outlets.
You should communicate internally first. Clearly explain the facts to your employees: what actions you have already taken and, if possible, the next steps. This approach will help you protect your brand through your internal team. Tell them not to speak to the media unless that is part of your strategy, depending on the nature of the crisis. Sometimes a brand that communicates through internal ambassadors can soothe tensions.
Suspend all other campaigns and social media activity. The purpose of this step is to concentrate on the crisis and not on incoming reactions that might detract from your action plan.
You can refer to your crisis handbook to convene the crisis unit. Keep in mind that the more people there are in the loop, the slower decision making will be. Give the local team the independence and authority that is needed to handle the crisis as quickly as possible. In general, the crisis unit includes a manager, a communication officer and a person with expertise relating to the crisis, such as a security officer for an accident or a CSR manager for an environmental problem. You can then fine-tune the message as events unfold.
You must understand the crisis and find its source to then identify the key messages and spokespeople. "One technique that we really like is to use internal resources so that the response does not necessarily come from the brand, but from employees or ambassadors who can speak out and try to calm things down," recommends Sophiane Laby, Social Media Strategist at Fcinq. Exposing someone to the public is not without risk, so the spokesperson should be aware of the risks involved.
When everything has been prepared, you can roll out your communication in multiple formats. This way, you will be able to address the flow of questions by rotating through media. "These days, the press alone is not enough to manage reputation issues and we work a lot on social media: by simultaneously monitoring and disseminating messages and also focusing on the executive's standing," adds Timothée Gaget.
Measure the impact of the crisis on your brand image
A crisis always has an impact on your brand image. Your work is not done yet. You have to circle back and ensure that certain bits of content do not affect your company again.
A post-action report on your actions and their consequences will help you understand what did and did not work. Identify the platforms on which the information was best conveyed and those where you observed the most positive or negative interactions. This summary will allow you to assess how you managed the crisis, draw conclusions and plan future actions for other crises.
The next goal is to restore your company's reputation with specific actions related to the sensitive topics that triggered the crisis. Therefore, your future strategy will consist of reviewing the conclusions of this report and developing suitable content.
Watch the video of this discussion and hear other tips and concrete examples from our experts Joël Gaudeul, Sophiane Laby and Timothée Gaget about strategies you can adopt for effective international communication and optimal crisis management.