Starting the process of taking your company's marketing content global can come with a steep learning curve. When you begin to research the different services that translation companies offer, you might encounter some unfamiliar names, such as transcreation or adaptation.
These services may seem similar, but it's important to understand their differences in order to choose the best solution for your case.
In this article, we'll describe adaptation, transcreation, and copywriting in more detail and explain which type of content is best suited to each one.
How are they different from standard translation services?
Translation is a good solution for texts that need to directly reflect the source text, such as product files or technical documentation. Generally, not much creativity is required for these texts and it is preferable to have a direct translation so that all of your customers receive the same information. On the other hand, standard translation may not be the ideal solution for your marketing content, as a catchy slogan or a joke in one language probably won't make any sense in another. This is where transcreation, copywriting, and adaptation come in, as they are ideal for marketing content or any other text which needs a creative touch.
Copywriting
Copywriting is the art of creating written content from scratch without a source text. It is done by skilled writers, who have a background in communication or journalism. The process is quite different from the translation process, as the copywriter is creating a completely new text that is tailored to a specific market, rather than recreating a source text in another language. This leaves the copywriter with a great deal of room for creativity.
At Acolad, the copywriting process involves three stages:
Strategy: We work with you to create a brief that takes into account your objectives, target, and the style and tone of your message.
Writing: The copywriter begins writing the content while remaining in close collaboration with you.
Editing and review: Once the text is ready, we invite you to read it and share your feedback. The copywriter will then make any necessary edits, leaving you with the clear and compelling copy you had envisioned.
Copywriting requires a clear and exhaustive brief that explains your strategy, brand positioning, and style so the copywriter can create content that will resonate with your target markets. Since there is no source text for a copywriter to follow, it's essential that you explain your needs and provide them with some parameters for the project. A detailed brief means that the process will run smoothly, and the final editing stage will take less time.
When should it be used?
Copywriting is especially effective for marketing copy or content that needs to be tailored to the local market. For example, a blog post that was written by a copywriter is likely to be more effective than a direct translation of a source text in another language.
Working with a copywriter for blog posts or other editorial content also gives you the benefit of being able to truly tailor content to a specific market. A topic that may be of particular interest to one market, such as a national holiday or event, won't be interesting to clients in other countries.
Copywriting gives you the flexibility of creating localized content for specific audiences. On the other hand, content that needs to stay similar to the source text is not a good candidate for copywriting. For example, if your company needs to localize its website copy, adaptation would likely be a better solution, as you would not want the text to be completely different in each language.
Transcreation
Of all the services discussed in this article, transcreation is probably the least well-known. This is a shame because it's a great option for a lot of marketing content! As the name suggests, transcreation is a blend between "translation" and "creation", making it somewhat of a middle ground between translation and copywriting.
Transcreation is the perfect solution when you need to recreate a text in a target language while preserving the same intent of the original message. It allows you to adjust the original text to the context of the local market and guarantees a strong message that appeals to your target audience.
At Acolad, we work with transcreators who have experience in both translation and copywriting. Just like copywriting, transcreation requires a thorough brief from the client that defines the strategy, tone, and objective of the text. A transcreated text may be significantly or even completely different from the source text.
When should it be used?
Transcreation is an increasingly popular option for international corporations who need to localize their international content while conveying a consistent message. It is generally used for short marketing or advertising texts (such as headlines or slogans) that need to be catchy and persuasive.
A great example of transcreation is Haribo's slogan. The slogan in German is "Haribo macht Kinder froh und Erwachsene ebenso," but it needed to be adapted to English. A direct translation would have been something like "Haribo makes children and adults happy," but the transcreator adapted the slogan to fit the anglophone market with a catchy rhyme —"Kids and grown-ups love it so, the happy world of Haribo."
Adaptation
Adaptation, sometimes referred to as localization, involves significantly editing or even rewriting a text in order to convey a message to a specific audience. Much like copywriting or transcreation, adaptation projects usually begin with a brief that clarifies the client's needs and target audience. This helps the translation agency gain a clear understanding of the style and level of fine-tuning that are required. Adaptation can also include visual elements, such as images, or other elements such as units of measure, and is suitable for texts of any length that need to be adapted from a source language into one or several target languages.
When should it be used?
Adaptation is ideal for any situation where the text needs to sound like it was written by a native. Some reasons why a text would need to be adapted include cultural references, puns, slang, or proverbs. With adaptation, you can achieve the same impact in the target language as in your source text. Adaptation is often used for content such as press releases, editorial content, or web content.
We've boiled down the contents of this article into this table to give you a quick overview of each service: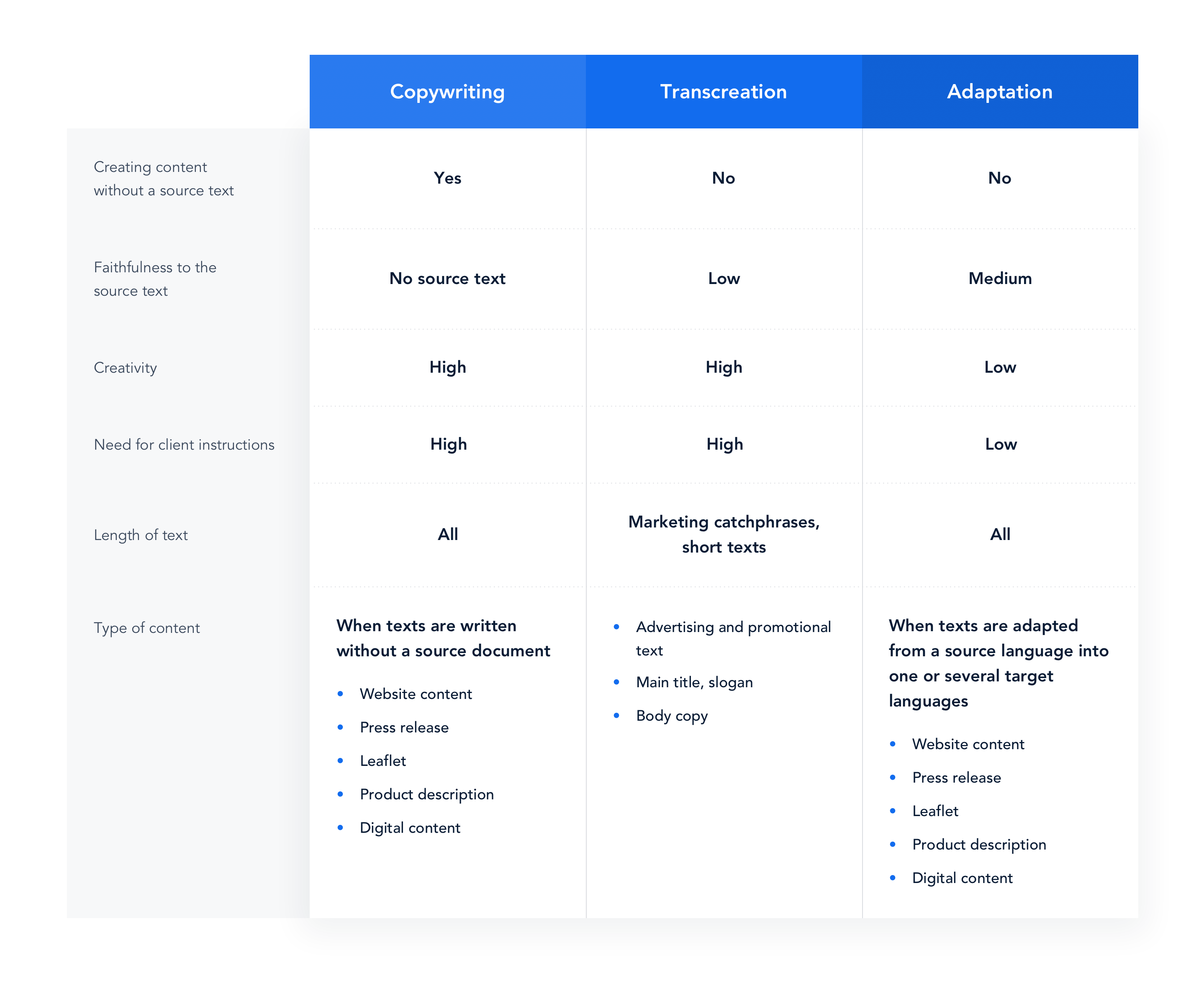 After reviewing these three services, it's clear that there are many things to keep in mind when localizing your content. The best service for your project depends on the type of content, your goals, and the intended audience.
Using a combination of all three services can often be a good option, for example using transcreation for your slogan, copywriting for your company blog, and adaptation for your press releases. If you have any questions about transcreation, adaptation or copywriting, our specialists are ready to discuss your project and find the right solution for your business.
---
Let us help scale your marketing operations globally
Connect with our team to find out how