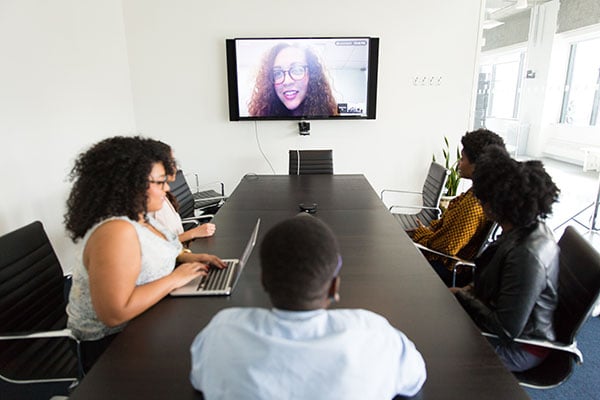 The coronavirus health emergency has already had a strong impact on the business world, and many companies have had to react quickly on several fronts. In particular, the need to reduce or avoid public gatherings has resulted in rapid and unexpected changes.
Major corporate events were immediately affected by the coronavirus emergency: large global conferences like Mobile World Congress in Barcelona, ​​the most important trade fair for the mobile communications industry scheduled for February, were canceled. This was followed by other international events such as the Geneva Motor Show in March, and the Milan Furniture Show, scheduled for April, which has been postponed until June. On a local level, conferences, workshops, and company meetings have been canceled or postponed due to the need to reduce public gatherings.
The virus has also had a strong impact on the way people work, with remote work being used so employees can work from home to protect their health. According to research by Una, the association of United Communication Companies in Italy, for 75% of communication agencies, smart working was the preferred method of protecting people and the public interest.
The current priority is to take all the necessary precautions to limit contagion and end the epidemic. But how can we reduce this situation's impact on international business? Should we just resign ourselves to the idea that ​​some of our day-to-day activities like meeting with colleagues and clients will have to stop for an indefinite period? Fortunately, technology offers us a few alternatives!
Here are a few services and tools which companies who operate internationally can use from a distance.
---
Do you have questions about one of the services described in this article? Contact us!
---
1. Remote meeting with an interpreter



What should you do
if you have to organize an event or a meeting that requires the presence of an interpreter, in these times of limited mobility? You can always organize a meeting remotely and use
remote interpretation
. Thanks to
years of
experience gained in the field, at Acolad we can develop tailor-made solutions, such as:

- Remote liaison interpreting: for one-to-one meetings, in over 40 language combinations with the assistance of a remote interpreter. You can choose between two types: OPI-Over the Phone Interpreting, with audio transmission, and VRI-Video Remote Interpreting: with audio and video support for clear and integrated communication.

- Remote conference interpreting: for online meetings, video conferences, live streaming events. Participants can connect remotely through a browser (from a PC) or an app (tablet or smartphone). The interpreter's services range from consecutive to simultaneous interpretation remotely.

2. Remote management of translation projects
If your team members are working from home but you still need translations, why not consider handling these projects remotely? An online platform like the one that Acolad offers to its customers is designed to help you overcome the boundaries of space and time. With this platform, you and your colleagues can request quotes, launch new translation projects, monitor the progress of those in progress, and access reports based on current and past orders anywhere, anytime.

3. Video conferences with multilingual subtitles
An effective method to continue communicating from a distance is the organization of video conferences, which allow participants to exchange information and ideas in real time, even from different locations.
If the organization of a real-time conference is too complex, an alternative may be recording a video which can then reach multilingual audiences thanks to subtitles. This technique has recently returned to the forefront, thanks to the South Korean film Parasite, winner of 4 Oscars, and presented in its original language with subtitles. Acolad can take care of subtitling your videos​​thanks to its translators who specialize in audiovisual translation. Once the content of your video has been transcribed, you can then move on to the translation of the text and the creation of the subtitles, which must be adapted in the required format, such as srt, webvtt, txt, docx and need to respect the technical constraints of the video.

4. Online courses and training
Did you have in-person training sessions or meetings planned? It might be the right time to prepare training sessions that can be held online. Online training courses offer total flexibility and are always available for use in the future. These training sessions can be offered to your colleagues or your customers and can be aimed at creating new skills or building on existing ones. Online training has a wide range of applications and can be the ideal choice for many different types of users and purposes. Acolad has a team of expert consultants who can guide you in the creation of effective online training and help you achieve your training objectives.
---
Do you have questions about one of the services described in this article? Contact us!
---