With the new EU Clinical Trial Regulation (No. 536/2014) going into effect starting January 2022, Clinical Operations teams within Sponsor and CRO companies should make sure that language service providers are ready to handle the impact of the new regulation. It establishes a Clinical Trials Information System (CTIS) which contains a centralized EU portal and database for clinical trial submissions and assessments to be conducted in one or more Member States of the EU.
Benefits of the new regulation for clinical trial sponsors, contract research organizations (CROs) and patients
This harmonization and centralization is expected to improve collaboration across the Member States and make it easier for Sponsors/CROs to get clinical trial approvals in multiple Member States. In addition, it will provide increased transparency of information on clinical trials.
For participants in EU clinical trials, this will mean more available information as well as transparency on safety and outcomes.
But while this is all good news for Sponsors and clinical trial participants, the new regulation also implies changes to the approach traditionally taken for clinical trial submissions and assessments, namely on language/country requirements and timelines.
How Acolad supports clinical trial sponsors and CROs under the new regulation
Acolad has been a long-term partner of life sciences companies, providing language support for every phase of the product lifecycle - from pre-clinical to post-market. As such, we've been very focused on making sure that we're ready to handle the impact of the new regulation, making all necessary adjustments to support our sponsor/CRO clients under the new regulation.
Centralization of translation: optimizing and simplifying global clinical trial study requirements
While simultaneous translation and submission for clinical trial authorization has not been the norm, under CTR, centralization and harmonization of the submission process across all Member States is the new paradigm.
We encourage centralization of the translation process to realize economies of scale and so moving to a more centralized model fits well with our optimized processes and systems. Our customized clinical trial production system is designed to manage the complexity of a global clinical study – managing country/sponsor/study-specific requirements, study contact roles and responsibilities, financial tracking and reporting, progress status, other study-specific data – all within our centralized production system.
Faster translation turnaround times: an agile approach to Part 1 and Part 2 assessment periods
The CTR introduces new timelines that may translate into shorter timelines for some Member States, while for others the timelines might be longer. In the end, it means consistent and predictable timelines. At Acolad we are ready to respond to translation requirements and requests during the Part 1 and Part 2 assessment period as well as during the query cycles in a timely and agile manner. The timeframes allowed for each step will not change, so to be able to turn around requests quickly we depend on our end-to-end production system that consists of:
Customer Portal
Our customer portal is used by our clients to submit requests quickly and efficiently and automatically feeds into our clinical trial production system. The portal provides visibility to requesters on all pending work, current work in progress, study materials submitted and completed as well as KPI and financial reporting.
Clinical trial production system powered by best-in-class language technology
Our production system integrates state of the art computer-assisted translation tools (translation memory) into its workflow so that the volume of work is minimized through reuse of previously translated and approved content. In addition, machine translation (MT) can also be deployed for those clients who chose to use the technology. All MTed content goes through a rigorous post edit by medically qualified linguists to ensure quality. Finally, all the technology is integrated into our clinical trial production system where custom workflow is followed according to study requirements. This translates into an agile approach that can produce translations in record time.
High quality translations despite the time sensitive environment and strict deadlines
Keep in mind that failure for trial sponsors or regulators to comply with timelines will result in a failed/rejected application. The implications are serious. Acolad recognizes this and we are ready to meet this challenge through our quality processes. This process starts with assembling the most qualified translators who are screened for their professional training, a minimum of 5 years of experience, specialization in the medical/pharmacological field and in clinical trials and trained in the use of translation software and tools. They are further vetted through our extensive testing and certification process before being assigned to actual work. Once assigned, all our translators receive continuous feedback through our review and evaluation process that provides scoring and feedback on all work conducted for Acolad. It is through this rigorous process that Acolad can deliver first time quality in the time sensitive environment of clinical trial submissions.
Streamlining safety reporting: efficient ASR and SUSARS report translations
Another area where our production system will come in handy is in the safety reporting that falls under the CTR. Under the CTR safety reporting is streamlined and centralized in the CTIS. Not all adverse event and serious adverse events are recorded but annual safety reports (ASR) and suspected unexpected serious adverse reactions (SUSARS) will be reported and submitted through the CTIS. To produce these reports, Sponsors and CROs will need to continue to translate AE and SAEs quickly and efficiently to gather the data needed to generate these safety reports. Acolad's production workflow easily takes the AE and SAE reports, typically in PDF format, and processes them through our systems for quick and efficient translations. As an integral part of the safety reporting process, Acolad can easily support in the translation of the ASR and SUSAR as well.
Plain Language Summaries: ensuring high quality clinical trial information for the general public
As part of the effort to provide more information and transparency to the public, plain language summaries of trial results are now required to be submitted at trial end. These summaries need to be understood by the layperson and be culturally appropriate for the region or country. Acolad is well prepared to address this requirement through:
Linguistic resources who are selected and screened for this type of work and also provided with additional training.
We have established processes using back translation and reconciliation to make sure the highest quality and comprehension is aligned with the original source text. Our process workflow is as follows: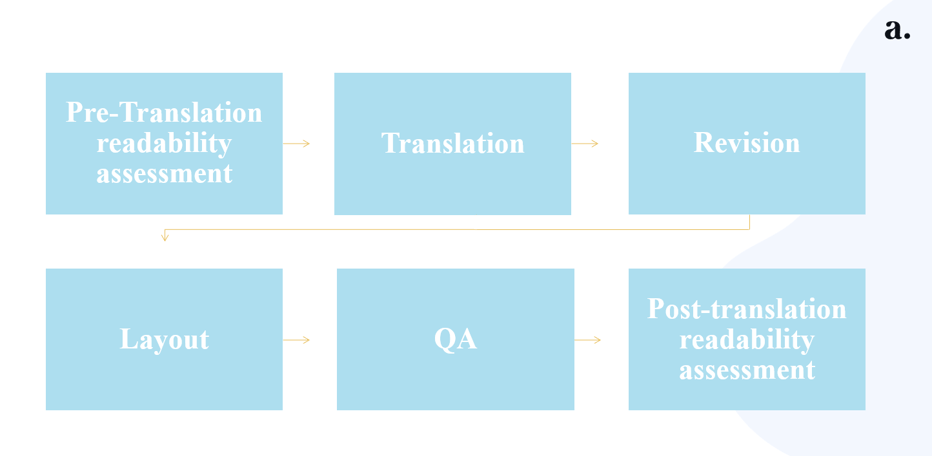 Acolad is up to the task
As the regulation goes into effect at the beginning of 2022, there will be plenty of discovery happening with all stakeholders (Sponsors, CROs as well as language service providers). In addition, the transition period over 1-3 years will mean that some studies for a client will follow the new CTR while others will transition over time. We are aware of these nuances, and fully ready to flexibly handle the different requirements through our production systems, tools and knowledgeable teams.
We also believe it's imperative that all parties are well informed on the regulation and developments to fully understand the implications, so that they're able to adjust as new processes are tried and tested. Also on this regard, Acolad's experienced clinical trial team is well positioned to provide all necessary support. Our seasoned Project Management and Account Management teams are knowledgeable of the CTR and experienced with discovery, support, and consultation on all clinical trial related challenges.
Changes will always bring unknowns and surprises. The Acolad team is here to support and partner for a successful journey through the ever-changing regulatory landscape.